Hunting in Mauritius
There are two types of hunting offered in Mauritius
• The first is the driven hunt which comprises of approximately forty Mauritian hunters, a hundred hunting dogs, and around forty beaters. The hunt is then followed by the traditional lunch.
• The second is a Walk & Stalk hunt with rifle or bow and arrow. In both cases you will be personally guided and advised by Ivan.
Two exceptional hunting grounds are proposed. The first, located in the West, is the largest of the island, with its 5,000 hectares, and is reminiscent of the African Savannah.
The second area, to the East of the island, is the birthplace of the Rusa deer, which landed in Mauritius in the 17th century. Covering an area of 3,500 hectares, this area produces the most beautiful trophies of the island thanks to its luxurious and abundant vegetation.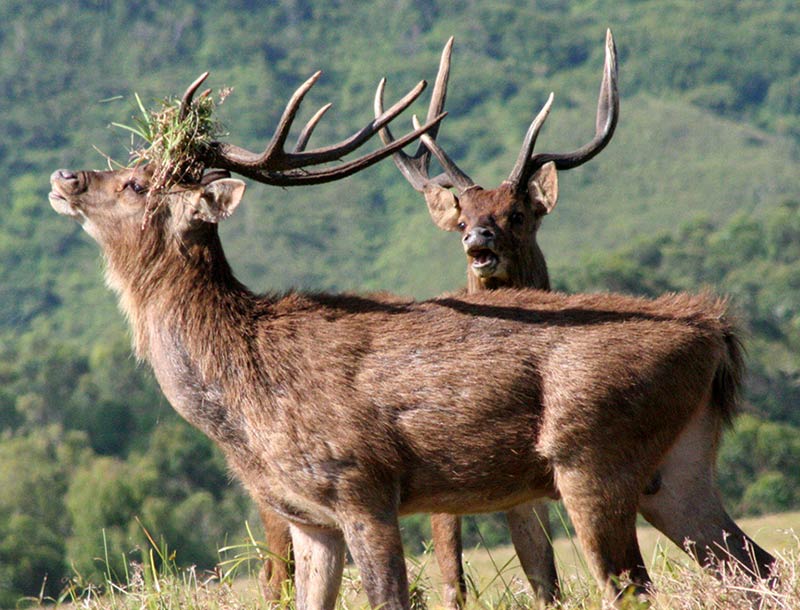 HUNTING PACKAGES
HUNTING HOLIDAY FOR 2 IN MAURITIUS
Included in the price:
Accommodation for 2 adults sharing.
2 days Walk & Stalk hunt for 1 hunter.
Lunch and drinks on hunting days.
The PH.
The rental of a riffle mounted with a telescope and bullets.
The exclusive rental of the hunting grounds during the walk & stalk hunts.
The local hunting permit.
Preliminary preparation for all trophies.
Airport and hunting transfers.
Testimonials
We were looking for a holiday location with warm water, colourful fish, good food and some hunting for myself. We made contact with Ivan Charoux of Vacances Aventures and he book our 10 day trip to Mauritius. We had a sensational hotel with a beautiful beach, excellent food, found the island very interesting and very adaptable to our 5 and 7 year-old kids and had a marvellous time. I did hunt Rusa on walk and stalk and Ivan guided me personally. We shoot a great stag out of a herd of at least 25 stags after we passed on two other herds stags that he found not big enough. The handling of the trophy was good and I was able to take my trophy as skull mount home when we left. Ivan also took us on a fishing trip and I managed to land a Dorado and two Baracudas. We are very happy that we did this trip and we are grateful that Ivan took care of us and any detail of our trip. We highly recommend him as a top outfitter and I am happy that he will take care of our SafariService.org clients.

Die Jagd mit Ivan Charoux auf Mauritius ist und bleibt für mich ein unvergessliches Erlebnis. Meine zwei Jagdtage waren sehr gut organisiert, da hat alles gepasst. Die Jagdgebiete mit den Hervorragenden Wildbeständen und der Grandiosen Landschaft haben mich sehr beeindruckt. Zwei Hirsch in zwei Jagdtagen und einer davon mit 35 Inch da kann man nur sagen "Weidmannsdank" für die tolle Jagd die Ich mit Ivan erleben konnte. Nach der Jagd ging es mit Ivan auf das Meer zum Delfin schwimmen, schnorcheln und Hochseeangeln das war dann ein gelungener Abschluss unserer Reise.

Mauritius was my 35. hunting trip. And it was one of the best. The hunt with you was a real experience in a paradies area. The game was very plentiful and hunting a great memory. Even the big game fishing for marlin and Co was very well. Even if it did not work with the marlin we were with 11 pcs fish (Dorado, Thuna, Bonito) but very successful. We had a great experience with whales and we are sure to fish again on our next visit with you. Mauritius is a dream. We came as guests and went as friends. We'll be back. Thomas & Berni from Germany / Bavaria